Name:
Age:
Gender:
Appearance:
Personality:
Bio:
Name: Hien Quang
Age: 26
Gender: Male
Appearance:
Personality: Reserved and quiet, but kind and caring
Bio: Hien traveled around the world with his mother and father when he was about five years old. His father, Loc Quang, was was a wildlife photographer and his mother, Toan Quang, stayed at their Motor home with him. At age eight his sister, Sen Quang, was born. Sen loved to take pictures of her brother and her together, and hated when Hien would leave to go with their father. One day, whilst they were touring Japan, Hien(now seventeen years old) returned to get a new roll of film for their father and just after greeting him with a hug Sen collapsed. Hien brought their father home and they quickly drove to the closest town. The doctors examined Sen and diagnosed her with Acute Leukemia. Not able to accept the truth Loc drove the family to Tokyo, hoping that a big city would have a better doctor. Sadly, the small town doctor was correct. There was no hope.
Hien stayed by his sisters side whenever he could, only doctors and nurses could pull him away. After watching his sister suffer for so long he decided to study medicine and become a doctor. He studied day and night, perfecting his knowledge and, once he got a job at the hospital, his skill. His sister died at age fifteen, suffering through a horrible seizure. A man approached him as he walked alone to his car. He told Hien all about Tourchwood and the medical technology they could find, and had already found. He accepted the job and has worked with them for three years.
_________________
I'm Commander Shepard and I am SICK OF CLEANING UP AFTER THE COUNSEL! Thank you.
Name: Yamato Sana
Age: 30
Gender: Male
Appearance: 5'6'', pale, short black hair, black eyes, wears mostly button-down shirts and jeans or trousers
Personality: Clever, friendly, charming
Bio: Yamato was pulled into the Rift at 16 and spit out again at 18. Like other Rift returnees he was originally locked away, but his short time away and youthful resilience allowed him to recover his mind, unlike the others. He was not allowed out of Torchwood's influence, so instead he came to work for them, first as a computer expert then eventually achieving the leader's position.

Name: Shino Yamada
Age: 27
Gender: Male
Appearance: 5'4'', pale, long black hair in a ponytail, brown eyes, wears jeans and t-shirts
Personality: Fun-loving, friendly, geeky
Bio: Shino happened to run into the Torchwood team when they were dealing with a Weevil infestation. He proved surprisingly able to handle it, even taking down one of the aliens himself, so Yamato offered him a job on the spot. When not out dealing with Rift trouble, he mans the bookstore that serves as their cover.
Name: Nen Mubarak
Age: 19
Gender: Male
Appearance:
Personality: Shy, sweet, and loyal
Bio: Nen was the son of a Priest of Horus and a former Priestess of Hapy. They moved to Cairo when he was ten years old and raised him to be a kind person. His father taught him all the bird calls he knew. During the fall of Cairo to the British Nen was sucked in through The Rift.
_________________
I'm Commander Shepard and I am SICK OF CLEANING UP AFTER THE COUNSEL! Thank you.
Name: Michiru Takuya
Age: 28
Gender: Female
Appearance:
Personality: Tough, protective, speaks her mind
Bio: Michiru comes from a family of cops. She was one as well, but an injury taking down a knife-wielding mugger left her with a limp and a desk job. She was pissed off; so when Yamato told her about Torchwood and offered her a job she leapt at it. Her parents live in Hokkaido and she has them believing she's still a cop.
Name: Travis Anderson
Age: 23
Gender: Male
Appearance: (Ignore the wings)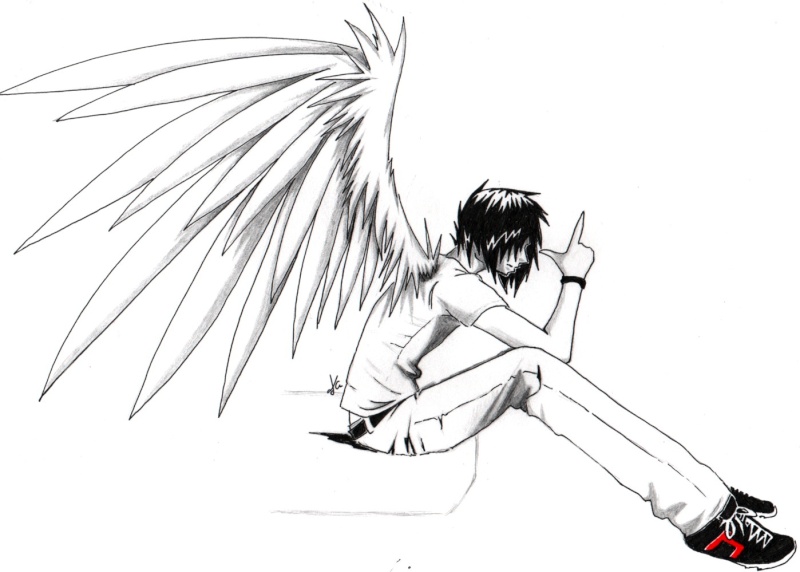 Personality: Travis is adaptable, crafty, elusive, fearless, and manipulative. Only one thing can break his cool demeanor: do
not
call him stupid.
Bio: Travis came from a rich family. He and his sister Rebeca had maids and servants to do everything for them. Rebeca loved being waited on, but Travis hated every minute of it. He did everything he could to try and get close with his parents and sister, but everyone rebuffed him. Travis eventually accepted being served, but only to an extent. Travis grew up to be a world renowned spy. He works for the local police when they need to tail a suspect or keep an eye on a witness whenever he isn't on a mission with Torchwood. He is also used to infiltrate enemy bases. Whenever he is discovered it is usually too late, but if he needs to fight he uses a self taught fighting style that utilizes his long legs, speed, and lithe frame.
_________________
I'm Commander Shepard and I am SICK OF CLEANING UP AFTER THE COUNSEL! Thank you.
---
Permissions in this forum:
You
cannot
reply to topics in this forum