post corpse-- I-I mean
characters
here
Name:
The Past
Age:
Unknown
Gender:
Male
Height:
6' 2"
Bio:
Made from the collective memories of the people who died in Silent Hill, The Past was born in the lowest level of Toluca Prison. No one, not even The Order has found out what causes his bouts of killing sprees. The Past has one major trigger which will cause him to lash out at people - Contact. He will scream and squirm away.
Personality:
No one knows his true personality. He tends to change his demeanor at random.
Appearance:
Dull, brown hair kept in a ponytail (save for his bangs). Has fairly big, expressive, Olive Green eyes, a slender build, and fair skin. The Past usually wears dull, black funeral attire.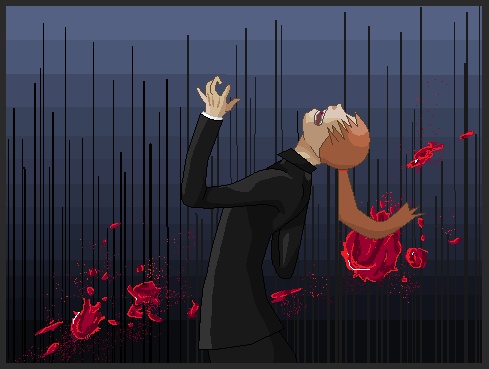 Other:
Has the unique ability to hear thoughts and teleport.
Name:
Haruto and Kaito Yudai
Age:
both are 19
Gender:
both are male
Height:
both are 6' 5"
Bio:
Haruto and Kaito never knew their birth parents. They were in orphanages until they were 6 years old. Their foster parents were okay folks, but Kaito never accepted the fact that his birth parents were gone. One day when they got home from school they found the door open. When they walked in they found their foster parents stabbed to death and all their valuables stolen. After that Kaito was never the same, he suffered from horrible nightmares and sleepwalking.
Personality:
Haruto is caring and kind. Kaito is quiet and introverted. Both love painting
Appearance:
Both have short black hair and Hazel eyes, though they do wear contacts from their collection. They both wear identical clothes (usually a white t-shirt and jeans) and the only real difference between the two brothers is Kaito has a scar on his right hip from when he got caught in the crossfire of a gang war (He didn't realize he was in the middle of the war zone because they were in a ceasefire. Here's a picture to help those who may not be able to visualize them the way they're meant to be - Please keep in mind that this picture isn't perfect, it's just as close as I can get at this moment
Other:
Haruto legally owns a pistol which he carries with him everywhere he is allowed.
Last edited by Lyude on Tue Jul 12, 2011 9:39 am; edited 1 time in total
_________________
I'm Commander Shepard and I am SICK OF CLEANING UP AFTER THE COUNSEL! Thank you.
Spammer





Posts

: 1006


Join date

: 2011-01-28


Age

: 24


Location

: Home



Name: Andromeda
Age: 17
Gender: Male
Height: 5'4''
Bio: Andi was raised from infancy as a slave. When he was 12 he killed his master and escaped. He lived alone on the streets after that, until he found Amon living in a small cabin. He has been taking care of Amon since then.
Personality: Defensive, aggressive, very protective of Amon
Appearance: Pale skin that burns easily, a waist-length blond braid, blue eyes, scars on his arms and across his right eyebrow, wearing jeans and a green t-shirt
Other: Doesn't like being touched. Doesn't know how to read.


Name: Amon Rai
Age: 18
Gender: Male
Height: 5'10''
Bio: Amon had a happy childhood, until he was five. Mysterious figures broke into his home, looking for him specifically. They murdered his parents, but Amon woke up and hid in a secret closet with his sister; unfortunately he ended up smothering her trying to stop her from crying. The trauma caused him to stop speaking and withdraw from people, living alone in a cabin in the woods until Andi found him. Recently he has been having strange dreams, and has been strangely enthralled by a road map showing the town of Silent Hill.
Personality: Sweet, kind, gentle, nervous
Appearance: Dark skin, short curly black hair, brown eyes, wears a long black skirt and a light blue sweater
Other: Doesn't speak, instead communicating through hand signs that only Andi can understand.


Name: Lynn Maybell
Age: 28
Gender: Male
Height: 6'2''
Bio: Lynn was a successful children's author and a happy single father, until his son was murdered by a madman who then escaped. Lynn went into total seclusion; his only contact with others was sending his editor manuscripts for his new horror novels. He has slowly been going mad for the last 7 years. Recently, he received a letter from his son's killer, full of insane ramblings and apparently originating in a town called Silent Hill.
Personality: Cynical, cold, depressed
Appearance: Pale, long black hair, gray eyes, wears black pajama pants and a baggy green sweater
Other: Falls asleep in odd places, and occasionally hallucinates about the characters of his novels.
Spammer





Posts

: 683


Join date

: 2011-01-29


Age

: 29



Name:
Kyle Sunderland
Age:
24
Gender:
Male
Height:
5' 10"
Bio:
Kyle was raised in Wish House Orphanage where he was taught about The Order's beliefs. With nothing else to believe in, he studied The Order's beliefs day and night with little rest. When he was old enough he was accepted into the Holy Mother Sect of The Order. When they found The Past he was kept away from him for the first three years. Once he showed his deep devotion to The Order he was permitted to continue with The Past's 'Resurrection Tests'. One day while Kyle was escorting The Past to another test he escaped and Kyle was demoted to lowest member of The Holy Mother Sect.
Personality:
Manipulative and Sadistic
Appearance: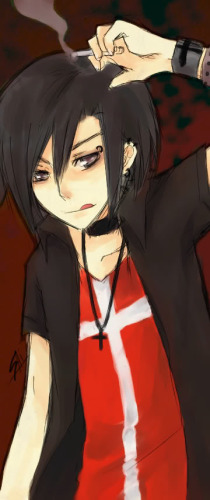 Other:
He was the one that tested The Past's 'Regenerative capabilities' through drowning, electrocution and burning alive.
_________________
I'm Commander Shepard and I am SICK OF CLEANING UP AFTER THE COUNSEL! Thank you.
Spammer





Posts

: 1006


Join date

: 2011-01-28


Age

: 24


Location

: Home



Similar topics
---
Permissions in this forum:
You
cannot
reply to topics in this forum