Since no character topic was made I made one myself. If there's anything I missed or you wanted changed then let me know
Code:

[b]Age:[/b]
[b]Sex:[/b]
[b]Height:[/b]
[b]Class:[/b]
[b]Bio:[/b]
[b]Appearance:[/b]
[b]Other:[/b]
_________________
I'm Commander Shepard and I am SICK OF CLEANING UP AFTER THE COUNSEL! Thank you.
Age:
27
Sex:
Male
Height:
6' 0"
Class:
Engineer
Bio:
Troy came from a very poor family. His father and twin brother died in an explosion at work that mangled his right arm when Troy was 15 years old, his mother worked a minimum wage job, and his sister was too young to work. Troy lost his arm completely when a truck he was working on fell on him and pinned his arm. He has refused prosthetic limbs because he wants to be dependent on himself. Troy has a little difficulty without his arm, but manages building as well as any two handed person
Appearance:
Other:
Troy keeps his arm bandaged because he noticed some new recruits found it unnerving
Last edited by Flippy on Mon Apr 22, 2013 9:43 pm; edited 2 times in total
_________________
I'm Commander Shepard and I am SICK OF CLEANING UP AFTER THE COUNSEL! Thank you.
Age:
19
Sex:
Male
Height:
5' 8"
Class:
Soldier
Bio:
Ike Taylor and his older sister Jamie lost their parents at an early age. They were taken in by a local military man, Fredrick Taylor, who treated them well and provided for them. Sadly, one day Fredrick up and left, leaving the kids alone once again. Jamie found them a cheap apartment to rent and juggled multiple jobs to support her brother. When Jamie fell ill Ike joined the BLU Team the moment he was old enough so he could pay for the hospital bills.
Appearance:
Other:
Fredrick Taylor is on the RED Team
Last edited by Flippy on Mon Apr 22, 2013 6:18 pm; edited 1 time in total
_________________
I'm Commander Shepard and I am SICK OF CLEANING UP AFTER THE COUNSEL! Thank you.
Age:
27
Sex:
Androgynous
Height:
6' 0"
Class:
Spy
Bio:
Little is known about Cameo. From their ambiguous gender to their constantly concealed face, even how Cameo was hired is a mystery. Cameo has displayed on occasion the ability to cook over a campfire and/or survive on raw foods most wouldn't think of eating, suggesting they needed this ability to survive at some point in their life. Cameo has also booby trapped their room, perhaps another trait they needed to survive, and sleeps very lightly. Though seemingly a high-stress person, Cameo acts very calm and collected.
Spoiler:

Cameo was born in an underground lab owned and funded by Builders League United to make the perfect spy. They were a baby born from the union of a Soldier and Spy, taken from their parents the night of their birth along with their brother. They, along with their brother, were forced to grow faster in large cylinders filled with an unknown liquid and were connected to strange tubes protruding from their arms, legs, stomach, and neck. The experiments were painful and often failures that nearly killed Cameo, but nonetheless they continued to use them.

The plans were to create spies that could turn invisible without the aid of a cloaking device. At best Cameo's hair became reflective(think two-way mirror) and their steps became lighter. However, a side effect resulted in erratic health issues. Cameo specifically suffered from suffocating coughing fits and seizures that require a specific medication that they keep on hand and stocked in their room and the infirmary.

Another ability they tried to give their spies was seeing fingerprints without the use of powders. This experiment took away Cameo's regular eyesight in their left eye, seeing things based on heat and memory, and completely blinded them in their right eye. They took quite some time to adjust to this sight, but it has both helped and hindered them.

Eventually Cameo and their brother were thrown away as failures with the rest of the rejects out in the middle of the ocean to drown. Cameo swam with everyone, watching as one by one that died from drowning, dehydration, and shark attacks. Just as Cameo was about to give up they were saved by passing sailors, pirates to be exact. The crew nursed Cameo to health, welcomed them as one of their own, and even helped them through their bouts of poor health.

But, the crew knew Cameo wouldn't survive long without the medication they told them about. They gave Cameo a ride to shore and, knowing they wouldn't want to leave the crew, tricked Cameo into being left behind after eleven tries.

Alone and confused, Cameo fled into an abandoned city, unaware that two rival mafias were fighting over the area. Cameo learned to sleep lightly and with a weapon after multiple attempts were made to kill him by both sides. Cameo eventually booby trapped the entire building he lived in and survived on local moss and other fungus, developing immunity to the toxic food that sustained him.

One mafia member befriended Cameo, helped keep them safe during a rather nasty gunfight, but later betrayed Cameo by slitting their throat in the middle of the night. Cameo survived, killed their former friend, and sewed their neck closed with a needle and their own hair. They decided to return to the lab and swore never to leave it again.

Cameo eventually found the now empty underground lab, bare of any sign of experimentation. Angry and bitter from being abandoned again, Cameo hunted down and killed every scientist that worked on the project. They even managed to get to Blutarch Mann himself without being detected, but rather than kill him Cameo was offered a choice: Kill Blutarch Mann and have their revenge, or officially join Builders League United and have a home.

To this day Cameo suffers from horrific nightmares and refuses to allow anyone to be special to them
Appearance: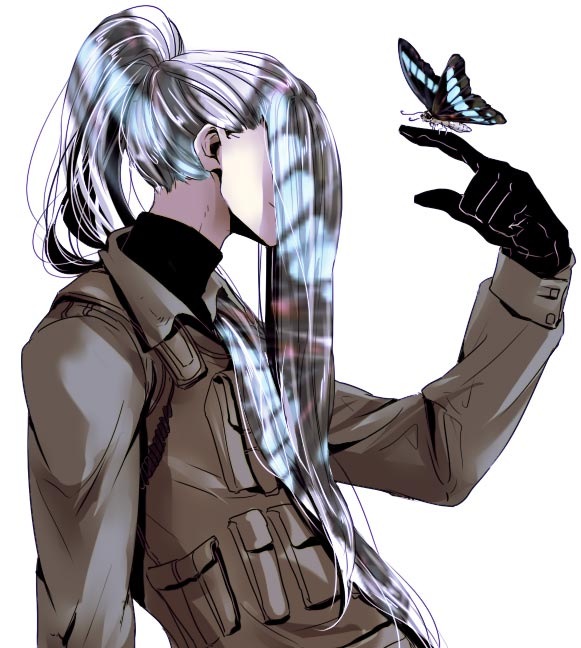 Other:
Cameo usually stands so something is concealing their face, and when nothing is available they uses their hair, fan, or fox mask to hide their face
Last edited by Flippy on Wed Apr 24, 2013 7:21 pm; edited 1 time in total
_________________
I'm Commander Shepard and I am SICK OF CLEANING UP AFTER THE COUNSEL! Thank you.
Name:
Alexandra Marsh
Age:
23
Sex:
Female
Height:
5'7
Class:
Scout
Bio:
As a teenager after her mother died due to illness, she was a hooligan who followed her twin sister's (Olivia)ideas, the two of them dropped out of school, got disowned by their father, and caused a lot of problems with the law(Stealing, drugs, alcohol). It wasn't until her older brother Nicolas had talk with her did she get out and change her life around. While Olivia was arrested, Alex ended up living with their brother.
She left her brother to join Builder's League United, after a fight Nick and his fiancé got into about him parenting Alex and how Alex was mooching off them. She left to prove that she could live on her own.
Appearance:
http://kefiramoon.deviantart.com/art/In-the-rain-196476141?q=gallery%3Akefiramoon%2F24183649&qo=46
Other:
She stays away from cigarettes, alcohol and other addictive drugs, She doesn't want them back into her life.
Name:
Darin Bentley
Age:
28
Sex:
Male
Height:
6'3
Class:
Spy
Bio:
He comes from a rather healthy and better off family. His father a doctor and his mother a nurse, his brother studying in the medical field – leaving Darin to work on a different path. He was going to study law enforcement until Alexandra called him.
He was always Nick's friend, having known what Alex and Nick went through, he has been a form of support for both of them, being a positive influence to Alex. In a heart beat, he left home quickly to go retrieve his best friend from a possible mistake. They were both signed up in a contract, but that didn't matter, at least he can keep her safe.
Appearance:
http://kefiramoon.deviantart.com/art/Darin-is-injured-256967736?q=gallery%3Akefiramoon%2F24183649&qo=6
(Only good picture of Darin at the moment… oops)
Other:
He's a bit of a prick at first to guys who are arrogant and or tries to get close to Alex, you've been warned.
Name:
Nicolas Marsh
Age:
29
Sex:
Male
Height:
6'1
Class:
Soldier
Bio:
Being six years older than his siblings, he has taken on a bit of a parental role for the lack of one. After their mother died, their father had no control and ended up disowning his daughters – Nick had to reason with them and tried to. Only Alex listened and was able to stop the nonsense with his help. His fiancé Elizabeth disliked the fact that Nick spent quite a bit of time on Alex and got tired of it after five years of it. This resulted in a huge argument which ended in Alex running away to be able to thrive on her own. Nick needed to go find her and quickly.
Although it took him longer to find her, with Darin's letter's, Nick was able to join and be reunited with her.
Appearance:
http://kefiramoon.deviantart.com/art/Nicolas-Marsh-217435461?q=gallery%3Akefiramoon%2F24183649&qo=11
Other:
His engagement has been broken off, he feels like he owes Alexandra for all the times he wasn't there.
Similar topics
---
Permissions in this forum:
You
cannot
reply to topics in this forum