Name:
Age: (If your species ages differently post their age, then what it would be equal to in human years)
Gender:
Height:
Species:
Appearance:
Bio:
Other:
_________________
I'm Commander Shepard and I am SICK OF CLEANING UP AFTER THE COUNSEL! Thank you.
Name: Sirinial-Estalan-Corain
Age: 5 (equivalent to 35 years on Earth) (around early 20s in maturity)
Gender: Male
Height: 7'4''
Species: Andalite
Appearance: (Left eye-stalk and ear are missing)
Bio: Like most male Andalites, Sirinial joined the military at a young age. As an aristh (cadet) he served on the warship Antarea, battling the Yeerk. He discovered a Yeerk infiltrator and stopped it from assassinating his prince, but his left eye-stalk and ear were lost in the fight, and a deep wound in his shoulder left him with nerve damage. Due to these injuries he was labeled vecol and made an outcast. He left his homeworld and has been traveling ever since, joining up briefly with several mercenary and military groups, but has found no one worthy of being his new prince.
Other: Most sentient beings are reluctant to let an Andalite touch them, knowing their form could be stolen. Sirinial has only acquired a handful of forms: Unas, Klingon, varactyl, Hork-Bajir, kafit bird, and human. The only Andalites who survived the war with the Yeerk were outcasts like Sirinial and a handful of warriors who agreed to cooperate with other species.
Last edited by Andromeda on Sun Sep 16, 2012 4:10 pm; edited 2 times in total
Name: Eleena Daru
Age: 29
Gender: Female
Height: 6'10''
Species: Twi'lek
Appearance:
Bio: Eleena's parents sold her when she was a young girl - a typical way for Twi'leks to give children a way off the planet. Eleena was purchased by a Hutt on Tatooine and kept as a dancer, and sometimes loaned to his favorite podracers as a masseuse. When one of the racers fell asleep, she stole everything he owned and left the planet. She has been supporting herself ever since as a pirate and mercenary.
Other: Eleena has never been trained as a fighter, but she has taught herself to use every weapon she could get her hands on. If necessary she will use her seductive abilities in combat, but she doesn't like to - she considers it cheating.
Name: Connor Drake
Age: 31
Gender: Male
Height: 6'0''
Species: Human
Appearance:
Bio: Connor was born in a human colony, but he has been traveling since he was old enough to take small jobs on ships. He eventually managed to get his hands on a small vessel of his own, and now he works as a pilot for hire; ferrying passengers and making deliveries. When not working he makes money racing and gambling, but also stops by some of the poorer colonies to help out free-of-charge.
Other: Connor's ship is old and has seen a lot of action, and he often has to settle for whatever parts he can salvage or find cheap. As a result the thing is such a mash of odd parts you can't tell what kind of ship it was originally - but that heap of junk is still one of the fastest ships out there.
Name: Nihl Varren
Age: 24
Gender: Male
Height: 6' 7"
Species: Turian
Appearance: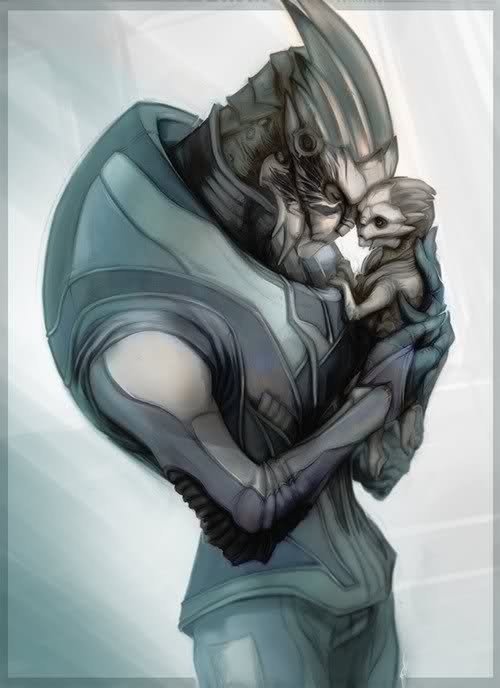 Bio: Nihl lead a happy life. He was a respected soldier in the Turian Military, he had a beautiful wife, and a bright and wonderful daughter. But that life was
shattered
when a criminal on the run killed his family as a warning. No one lived. Nihl's daughter lived long enough to say "I'm sorry daddy... I love you..." After that Nihl left the military and Palaven. He went to the planet with the highest crime rate and became a vigilante.
Other: Nihl is trained with a variety of weapons, but is most proficient with rifles
_________________
I'm Commander Shepard and I am SICK OF CLEANING UP AFTER THE COUNSEL! Thank you.
Name: Arthur Clarke (He hates his name so he goes by 'Clarke')
Age: 21
Gender: Male
Height: 5' 7"
Species: Human
Appearance:
Bio: Clarke lived a very dangerous life. Pirates raided his home and he was given up to the pirates by his parents in exchange for their lives. They were killed anyway, right in front of 5 year old Clarke. The captain of the pirates thought Clarke how to fight and improvise weapons, but he was mainly used for maintenance and repairs around the ship. At first Clarke was given very dangerous jobs, such as crawling through the ducts of the ship to clean or repair the fans, but as the captain grew attached to Clarke she started to actively protect him. Sadly, Clarke lost
this
family as well. A Gungan patrol ship attacked the pirates and, since Clarke was instructed to hide and under no circumstance fight, he was mistaken for a prisoner. Clarke never learned to speak well, his parents didn't care and the pirates thought he was mute, so all Clarke could do was struggle uselessly against the Gungan. He understood why he was ordered not to fight(Clarke was good, but not against trained Gungans), but Clarke never forgave himself for allowing his captain to die.
Clarke was sent to a human colony for treatment and learning to speak, but he was a spacer at heart. Clarke earned some money to pay his way onto a ship and offered his maintenance skills. (You can decide if he's with Connor or not)
Other: Clarke tends to respond to insults, such as 'dumbass' or 'Duct Rat', thanks to the pirate captain
Last edited by Sheik on Mon Apr 15, 2013 5:11 pm; edited 1 time in total
_________________
I'm Commander Shepard and I am SICK OF CLEANING UP AFTER THE COUNSEL! Thank you.
Name: Rebecca Coen
Age: 20
Gender: Female
Height: 6' 3"
Species: Human (Huzzah!)
Appearance: The one on the right in the fedora. Hair is dirty blonde and eyes are icy blue(right) and light green(left)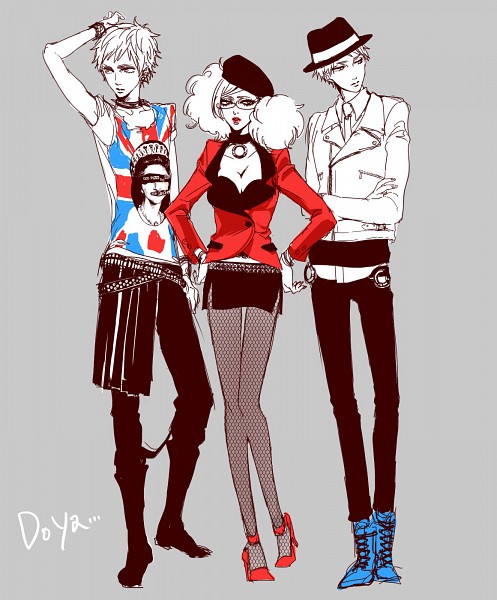 Bio: Rebecca came from a rather wealthy family. Her great great grandfather started a galactic news casting and since then her family has been in the reporting business. She is the middle born of her twin brother Freddy and twin sister Jenifer. The triplets are known for always working together on a report. All her life Rebecca felt closer to Freddy than anyone else in her family, but whilst he was visiting a colony that Jenifer thought might have a clue Freddy disappeared along with the colony. Rebecca and Jenifer told their father about this and he did
absolutely nothing
. He hesitantly gave up, saying 'better to think him dead than hold on to hope for a lost cause'. Jenifer did as told and let it go, but Rebecca used the report as an excuse to go looking for Freddy.
Other: Due to her habit of getting into trouble Rebecca not only carries a gun, but she also learned hand-to-hand combat and disarming.
_________________
I'm Commander Shepard and I am SICK OF CLEANING UP AFTER THE COUNSEL! Thank you.
Similar topics
---
Permissions in this forum:
You
cannot
reply to topics in this forum